Euronext
Corporation (member of Euronext Group) listed on Euronext Lisbon, Euronext Paris, Euronext Brussels and Euronext Amsterdam.
Maria João Borges Carioca Rodrigues - President / CEO
Authorities
President / CEO
Maria João Borges Carioca Rodrigues
Board of Directors
Rui de Matos
Av. Da Liberdade 196, 7th floor
(1250-147) Lisboa, Portugal
Main products and markets
Shares
Government and Corporate bonds
Warrants
Certificates
VMOC – Securities that have to be converted
Participation bonds
Reverse convertible
Rights
PSI 20 Index 

Main shareholders
| | |
| --- | --- |
| Shareholder | Share |
|  Euronext | 100,00% |
Brokerage firms
www.euronext.com/pt-pt/membership
Trading hours
Negotiations
08:00 - 16:30
Market data
Total market capitalization (millions of US$)*
133,408
181,134
156,814
102,246
Number of listed companies
60
69
77
110
PSI Geral
2,520
2,722.00
2,615.43
-
PSI 20
4,679
7,588.30
8,618.67
10,404.09
Number of brokerage companies
n.d.
111
66
93
Total value of share trading (Millions of US$)**
23,667
53,698
38,932
53,188
Total value of bond trading (Millions of US$)***
233
769
659
2,493
* Includes domestic and foreign companies
** Only Electronic Order Book
*** Only Domestic companies on Electronic Order Book
Market Capitalization - (US$ Millions)
Total value of Share trading - (US$ Millions)
Total value of Fixed Income trading - (US$ Millions)
Type of Contract
Notional value of contracts traded (millions of US dollars)
Open interest at year end
Number of contracts traded
Notional value of contracts traded (millions of US dollars)
Open interest at year end
Number of contracts traded
Stock index futures
1,031
15,225
197,332
1,641
18,675
271,991
Market capitalization split by economic sector
Banking, financial and insurance
23
24
Brief history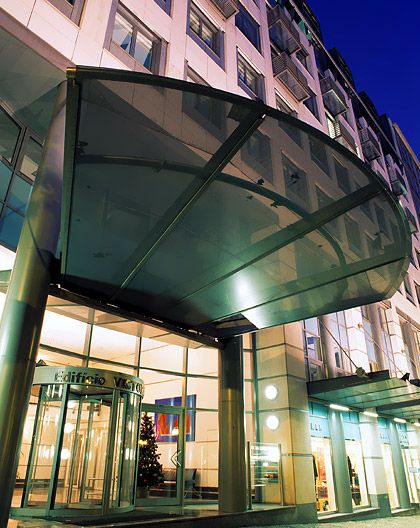 Euronext Lisbon is the old Lisbon Stock Exchange, and it belongs to the NYSE Euronext Group. Euronext Lisbon is the Portuguese Exchange and, as BVL (Bolsa de Valores de Lisboa), its origin dates back to January 1, 1769. In 1999, Bolsa de Lisboa and Bolsa de Porto merged into a new company named Bolsa de Valores de Lisboa y Porto (BVLP).  In the last years, the Exchange has been subject to major changes going from its own legal framework to its trading systems, as part of its integration into the international NYSE Euronext platform.
NYSE Euronext is the first pan-European securities market, and one of the two largest markets worldwide. It was created as a result of the merger between the Paris, Brussels, and Amsterdan Stock Exchanges and, subsequently, the London derivates market.  In 2002, it joined the Bolsa de Valores de Lisboa y Porto.  In 2007, it merged with NYSE, thus giving rise to the first transatlantic group of stock exchanges. This integration enabled the Portuguese capital market to go hand in hand with the development of international stock exchanges, thereby enabling investors and listed companies to gain international exposure, and providing them with privileged access to markets endowed with great depth and liquidity.
In June, 2014, following the acquisition of the NYSE Euronext transatlantic group of Exchanges by Ice – Intercontinental Exchange, the four European Exchanges – Paris, Lisbon, Brussels and Amsterdam – separated from the Americans and reinstated the initial and purely European group of Exchanges under the name of Euronext.
Financial indicators
Net Income (U$S thousands)
18,776
19,356
ROE (Net Income/Shareholders' Equity)
36.4%
31%
ROA (Net Income/Assets)
27.5%
25.9%
EBT/Shareholders' Equity
50.8%
44.4%
Clearing, settlement and depositary services
NYSE Euronext (trading) is entrusted with trade closing and registration procedures. On the other hand, LCH.Clearnet provides clearing services, thus ensuring brokers delivery of cash and securities. Finally, INTERBOLSA executes physical settlement of securities accounts, sending funds across the payment system ((TARGET2 o SPME).
Central counterparty - CCP
LCH.Clearnet acts as a Central Counterparty for stock-exchange transactions within the framework of the Portuguese market.
Member of the following organizations
Federación Iberoamericana de Bolsas (FIAB) – 1987
World Federation of Exchanges (WFE) – through NYSE Euronext.
Agreements with other Exchanges
MOU. Euronext Lisbon – Cape Verde Stock Exchange – 2012
MOU. Euronext Lisbon – Mozambique Stock Exchange – 2013