Mercado a Término de Buenos Aires – MATba
Corporation listed on the Buenos Aires Stock Exchange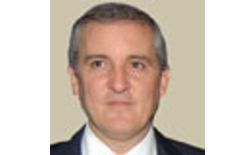 Marcos A. Hermansson - President
Authorities
President
Marcos Hermansson
Vice-President
Ignacio Bosch
Secretary
Santiago Arce
Treasurer
Horacio Botte
Deputy Secretary
Martín Laplacette
Deputy Treasurer
Ricardo Wlasiczuk
Council Members
Ricardo Baccarín
Raúl Cavallo
Diego Cifarelli
Francisco Fernández Candia
Ricardo Marra
Delfín Morgan
Finance & Administration Manager
I/C of General Management
Adrián Isnardo
Bouchard 454
C1106ABF – Ciudad Autonoma de Buenos Aires – Argentina
Phone: 54 (11) 4311-4716
www.matba.com.ar
Structure of the Exchange Council
The Board of Directors
It is the body in charge of MATba's management.
It is composed of twelve regular members with a three year mandate with the possibility of being re-elected for another period. Three deputy directors are also elected and they are called to replace the regular ones in the order they have been elected.
In order to be a regular or deputy member of the Board of Directors, it necessary to be a shareholder.
The Chairman and The Board of Directors
Every year, the Board of Directors assigns a vice-chairman, a secretary, treasurer, a vice-secretary and a vice-treasurer. All of them are elected for one year and they may be re-elected as long as they are Directors.
Supervisory Committee
This Committee is in charge of the Legal supervision. It is composed of three regular members with a one year mandate and three deputy members.
Main products and markets
Main shareholders
MATBA capital stock consists of 400 shares. Share ownership is limited to five (5) shares per shareholder. In the case of entities, counting their members, such number shall not exceed eight (8), that is to say, two percent (2%) of votes cast.
Trading hours
Current Floor Trading Hours
Schedule*
Market/product
 Factory Soja
 11:30 to 15:15
 Soybean 30
 11:30 to 15:15
MATeBA II Trading Hours
15:45 to 17:30
All Products
*Trading hours change twice a year consistently with time changes in the USA during the following periods:
1. From the last Sunday in March to the first Sunday in November.
2. From the first Sunday in November to the last Sunday in March.
Possibly, trading hours may also change if there are time changes in Argentina
Brief history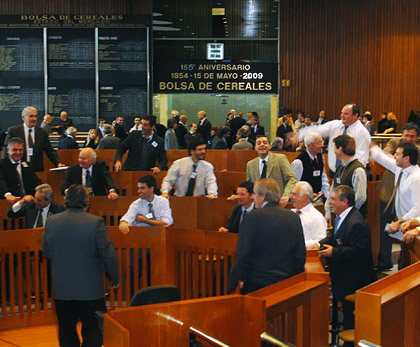 Founded in 1907, MATba was the first futures market to be established in Latin America, and the first one in the Americas to guarantee transactions.
In the 1920s, it became the reference world market for linseed crops. More than 15 million tons were traded, the harvest then totaling about 10 million tons.
In the following decades, the Argentine government adopted economic measures which adversely affected futures markets and, therefore, transactions recorded a sharp decline.
In the 1990s, upon the authorization of dollar-denominated contract trading, with a pegged exchange rate and a stable legal framework, as well as the introduction of options and the electronic market, trading volume exceeded 25 million tons, which accounted for 40 percent of total crop harvest in the country.
In 2002, Argentina went through an economic crisis that included sharp devaluation and payment default, which brought markets to a halt for some months.
In subsequent years, trading volumes began to rebound quickly, with some upheaval in 2008, when a dispute between farmers and the federal government put a brake on the pace of growth that futures and options markets were experiencing at the time.
MATba is the most active market for agricultural commodities (open interest and volume), soybean and sorghum, in Latin-America.
In 2001, Fundación MATba was created to disseminate knowledge and provide training on derivatives markets. The Foundation is a dynamic vehicle for MATba corporate social responsibility and, at the same time, it promotes and spreads information on research into the use of futures and options markets, commodity and financial markets, as well as instruments and products traded thereon.
Organization chart