ROFEX
Unlisted Corporation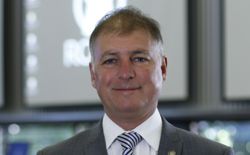 Andrés Ponte - Chairman
Authorities
Chairman
Andrés Ponte
Vice-Chairman
Luis Herrera

Board of Directors
Secretary
Leandro Salvatierra
Treasurer
Juan Fabricio Silvestri
Board Members
Marcelo José Rossi
Andrés E. Ponte
Fabio Jesús Bini
Gustavo Cortona
Alfredo Conde
General Manager or CEO
Diego Fernández
Paraguay 777, Piso 15
(2000) Rosario, Santa Fe, Argentina
Main products and markets
Agricultural derivatives

Financial derivatives


Other Commodities derivatives

Shares
Bonds
Main shareholders
| | |
| --- | --- |
| Shareholder | Share |
| Bolsa de Comercio de Rosario | 42.06% |
Trading hours
ROFEX Currency
10:00 to 15:30
ROFEX Agricultural
10:00 to 17:00
ROFEX Others
10:00 to 17:00
Market data
Notional value of contracts traded in Millions of US dollars
Open Interest at year end
Number of contracts traded
Notional value of contracts traded in Millions of US dollars
Open Interest at year end
Number of contracts traded
Stock Index
0.2
0
9,807
0
66
300
Exchange rate options
0.79
23,930
72,365
0
1,204
32,639
Soybean Index
1.27
703
10,871
2
785
8,606
Chicago Corn
0.37
5,862
20,488
0
6,073
19,856
Gold Index
0
0
426
1
14,512
14,512
Chicago soy bean
2.08
10,326
68
10
21,010
256,277
Stock Index Futures
901.76
5,179
622,866
147.5
973
137,898
Bond futures
641.19
293
59
140
4,252
111,770
Exchange rate futures
152,769.91
3,151,921
148,562,920
116,601
2,056,830
112,242,365
Soybean
0
2,802
38,804
325
4,693
42,852
Soybean Index
290.37
2,964
35,790
174
1,223
22,052
Chicago Soybean
123.22
8,766
241,780
351
10,525
192,082
Corn
4.34
8
2,276
11
1,212
2,508
Chicago Corn
432.57
5,472
71,980
35
9,342
49,041
Gold
16.72
4,139
65,933
66
3,135
51,650
Oil WTI
82.29
1,672
24,737
82
4,448
178,855
Brief history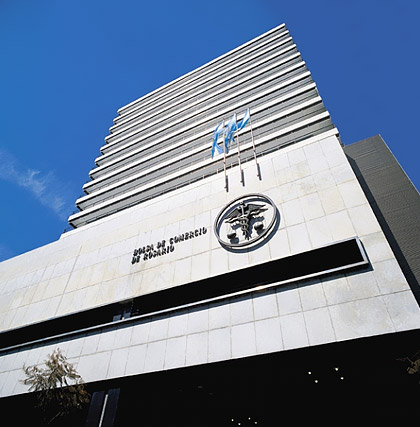 1909 – On November 19th the "mercado General de Productos Nacionales del Rosario de Santa Fe S.A." was founded.
1993 – ROFEX created the Rosafé Soya Index (ISR as in Spanish), that allowed the settlement for price difference (done by product deliver). Since then, it is the most negotiated contract in the Agricultural Derivatives Division.
1998 – Started to function the electronic negotiation system, that was added to the traditional operation method "open outcry", that took place in the Operations Hall of the Bolsa de Comercio de Rosario (BCR).
1999 – Argentina Clearing House S.A. was founded (afterwards named Argentina Clearing S.A.), which guaranteed the fulfilment of all the operations settled in ROFEX.
2006 – ROFEX was demutualized: it isn´t necessary to be a shareholder to operate. Since then, it is just needed a membership and the payment of a deposit.
2010 – Market Direct Access was launched. Gold Futures started to be deal, first on its type in the country.
2011 – In June the Oil Future was launched, first of its type in Latin America. Launched in December the Chicago Future Soy Contract, which is licensed by the CME Group.
2014 – It is given to the ROFEX stockbrokers the possibility to negotiate through algorithmics using the tool developed by Primary S.A., Algo Trading.
2015 – Starts to operate the Merval Index Future.
Organization chart

Financial indicators
Net Income (U$S thousands)
7.641,19
5.183,47
ROE (Net Income/Shareholders' Equity)
27,74%
53,46%
ROA (Net Income/Assets)
19,85%
42,05%
EBT/Shareholders' Equity
31,49%
59,54%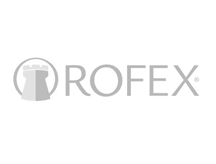 Clearing, settlement and depositary services
ROFEX has a separate Clearing House, known as Argentina Clearing S.A. (ACSA). Both ROFEX and ACSA are self-regulatory organizations which are under the supervision of the National Securities Commission (CNV), and they have funds settlement (MEP) accounts and securities settlement (CRyL) accounts with the Central Bank of Argentina (BCRA).
All the transactions executed on ROFEX futures exchange have central counterparty (CCP) assurance, since ACSA legally becomes buyer to every seller, and seller to every buyer, thus eliminating the bilateral nature of trading obligations.
In turn, for purposes of guaranteeing performance of executed transactions, ROFEX has established a mechanism for margin management and daily settlement (mark-to-market), whereby in case any participant fails to perform his settlement obligations, transactions executed on the futures market shall be cancelled and the relevant margins shall be settled immediately.
Central counterparty - CCP
Argentina Clearing S.A. (ACSA) is a self-regulatory organization, pursuant to Securities Public Offering Act 17811, and Executive Order 677/2001, under CNV supervision and authorized by the Commission to operate under Resolution 10278 issued on October 14, 1993. This clearing house was created in 1999 as a ROFEX spin-off for purposes of registering, clearing and settling transactions made on such futures exchange.
In order to comply with its mark-to-market system, ACSA implemented a special guarantee fund constituted by the Rosario Stock Exchange. A guarantee trust was set up with contributions made by all clearing members, thus forming a single trust fund which shall respond in case of failure to settle trades by any such member.
Likewise, creating guarantees integrated into the guarantee trust fund by clearing members for third-party transactions, as well as for obligations pertaining to each clearing member. The guarantee fund consists of initial guarantees, required margins, and surplus funds.
For purposes of strengthening legal certainty of the Clearing House, guarantee trusts were organized in order to protect funds contributed by all market participants, as safe assurance for trades registered with Argentina Clearing S.A.
Member of the following organizations
Futures Industry Association (FIA) – 2005
Association of Future Markets (AFM) – 2007
Federación Iberoamericana de Bolsas (FIAB) – 2010
Commodity Markets Council (CMC) – 2012
Agreements with other Exchanges
License agreement on the use of settlement prices for commodities (soybean) and crude oil (petroleum) with CME - 12/19/11
Trading Interconection Agreement with Mercado de Valores de Buenos Aires – 27/04/2014
Trading Interconection Agreement with Mercado Argentino de Valores – 11/02/2015