MATBA-ROFEX
Unlisted Corporation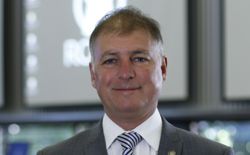 Andrés Ponte - Chairman
Authorities
Chairman
Andrés E. Ponte
Vicechairman
Marcos A. Hermansson
Board of Directors
Secretary
Francisco Fernández Candia
Treasurer
Luis A. Herrera
Board Members
Ignacio M. Bosch
Marcelo J. Rossi
Alfredo R. Conde
Juan Fabricio Silvestri
Ricardo D. Marra
Sebastián M. Bravo
Gustavo C. Cortona
Leandro Salvatierra
General Manager or CEO
Diego G. Fernández
Paraguay 777, Piso 15
(2000) Rosario, Santa Fe, Argentina
Phone: 54 (341) 530-2900
www.matbarofex.com.ar
Main products and markets
Matba Rofex lists futures and options on:
Currencies
Commodities: Agricultural, gold and WTI
Stock index and SSF
Bonds and interest rates
Main shareholders
| | |
| --- | --- |
| Shareholder | Share |
| Bolsa de Comercio de Rosario | 37.1% |
Trading hours
MTR Currency   
10:00 to 15:00
MTR Agro            
11:30 a 17:30
MTR Others            
10:00 to 17:00
Brief history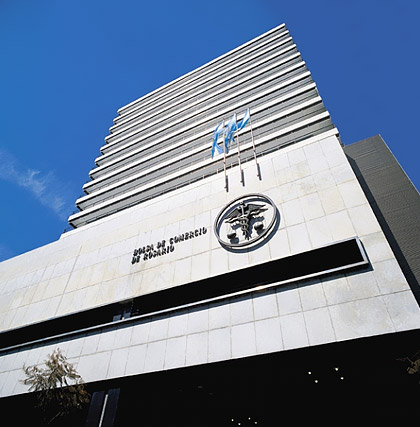 Matba Rofex, Argentina´s Futures and Options Exchange, started operations on August 1st , 2019 as a result of the merger of two centenary exchanges: MATba and ROFEX. The group is formed by the Exchange, Argentina Clearing, Matba Alyc, Ufex (an Exchange in Uruguay), MATba Foundation and two IT companies: Primary and Esco. Matba Rofex has a strong technological imprint, with proprietary trading, backoffice and risk management platforms that are and fully open to enable the connection with the fintech ecosystem.
Organization chart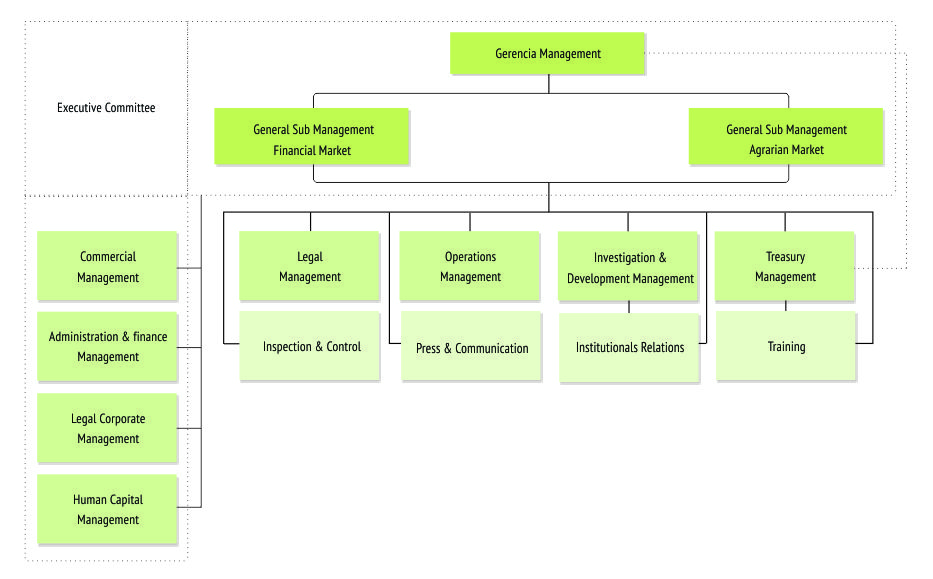 Clearing, settlement and depositary services
ROFEX has a separate Clearing House, known as Argentina Clearing S.A. (ACSA). Both ROFEX and ACSA are self-regulatory organizations which are under the supervision of the National Securities Commission (CNV), and they have funds settlement (MEP) accounts and securities settlement (CRyL) accounts with the Central Bank of Argentina (BCRA).
All the transactions executed on ROFEX futures exchange have central counterparty (CCP) assurance, since ACSA legally becomes buyer to every seller, and seller to every buyer, thus eliminating the bilateral nature of trading obligations.
In turn, for purposes of guaranteeing performance of executed transactions, ROFEX has established a mechanism for margin management and daily settlement (mark-to-market), whereby in case any participant fails to perform his settlement obligations, transactions executed on the futures market shall be cancelled and the relevant margins shall be settled immediately.
Central counterparty - CCP
Argentina Clearing S.A. (ACSA) is a self-regulatory organization, pursuant to Securities Public Offering Act 17811, and Executive Order 677/2001, under CNV supervision and authorized by the Commission to operate under Resolution 10278 issued on October 14, 1993. This clearing house was created in 1999 as a ROFEX spin-off for purposes of registering, clearing and settling transactions made on such futures exchange.
In order to comply with its mark-to-market system, ACSA implemented a special guarantee fund constituted by the Rosario Stock Exchange. A guarantee trust was set up with contributions made by all clearing members, thus forming a single trust fund which shall respond in case of failure to settle trades by any such member.
Likewise, creating guarantees integrated into the guarantee trust fund by clearing members for third-party transactions, as well as for obligations pertaining to each clearing member. The guarantee fund consists of initial guarantees, required margins, and surplus funds.
For purposes of strengthening legal certainty of the Clearing House, guarantee trusts were organized in order to protect funds contributed by all market participants, as safe assurance for trades registered with Argentina Clearing S.A.
Member of the following organizations
FIA – Futures Industry Association
AFM – Association of Futures Markets
FIAB – Federación Iberoamericana de Bolsas
WFE – World Federation of Echanges
CMC – Commodities Markets Council
Agreements with other Exchanges
License agreement on the use of settlement prices for commodities (soybean) and crude oil (petroleum) with CME - 12/19/11
Trading Interconection Agreement with Mercado de Valores de Buenos Aires – 27/04/2014
Trading Interconection Agreement with Mercado Argentino de Valores – 11/02/2015