Latinex Group
Corporation. Member of Latinex Holdings, Inc., listed on Bolsa de Valores de Panamá.
Directors of BVP
Authorities
Chairman
Arturo Gerbaud
Vice-Chairman
Roberto Brenes P.
Treasurer
Carlos Mendoza
Secretary
Mónica García de Paredes de Chapman
Directors
Rolando Arias
Ricardo Zarak
Gary Chong-Hon
Christine Müller S.
José Montero
Mitzi Alfaro de Pérez
Jorge Vallarino Ferrer
Executive VP & CEO
Olga Cantillo
Av. Federico Boyd y Calle 49 Edificio Bolsa de Valores de Panamá, Panamá
Phone: (5079) 269 1966 – www.latinexbolsa.com/en/
Main products and markets
Shares
Fixed Income
Reports
Green Bonds, Social Bonds and Sustainable Bonds
Trading hours
All instruments
10:00 – 15:00
Market Makers
10:00 – 13:00
Brief history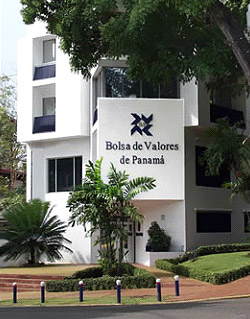 In 1989, when Panama was undergoing the worst political and economic crisis in the Republic's history, a group of businessmen endeavored to crystallize one of the most cherished projects of the local financial community, namely the foundation of a stock exchange.  The aim of this private-sector initiative was to operate a centralized trading system where the forces of supply and demand would freely converge, under the principles of market transparency and fairness. For such purpose, Bolsa de Valores de Panamá, S.A. (BVP) was established. On June 26, 1990, BVP became operative and held its first trading session, which marked the beginning of a new stage in the securities market development in Panama. Throughout the 1990s, BVP gradually consolidated its participation in the competitive financial intermediation market; more participants joined the market as brokerage firms, issuers and investors; new support institutions emerged and there was a continuous increase in trading volume year after year. This progress was the outcome of both a positive environment, characterized by the return to political stability enhanced with deep economic reforms, and equal tax treatment for different financial instruments. This allowed removing the taxation bias that had prevailed until 1991, which was then acting against the securities market. Contemporaneously with such quantitative evolution, BVP promoted several measures geared to modernizing the local securities market, among which one should note the creation of a central securities depository and settlement agency, which was the origin of Central Latinoamericana de Valores, S.A. (LATINCLEAR), a company that became operative in 1997 and today provides trade clearing and settlement services through electronic systems; thus allowing to eliminate trade risk, as well as clearing and settlement inefficiencies, since these functions were performed manually before. On October 22, 2009, the shareholders of Bolsa de Valores de Panamá S.A., assembled at an Extraordinary General Meeting, as well as the shareholders of Central Latinoamericana de Valores S.A., approved a corporate reorganization of the Exchange in order to form a new company holding the shares of both firms, referred to as Latinex Holdings, Inc.  In February 2011, the securities regulator Comisión Nacional de Valores authorized registration of the new shares of common stock and, therefore, these instruments were listed on the stock exchange for the first time.
Market data
Total market capitalization (millions of US$)
17,274
13,174
8,348
6,62
Number of listed companies
33
31
34
27
BVPSI
451.74
403
261.69
147.74
Number of brokerage companies (members)
30
25
19
15
Total value of share trading (Millions of US$)
437
247
322
301
Total value of bond trading (Millions of US$)
6,003
3,095
2.176
1.323
Market Capitalization - (US$ Millions)
Total value of Share trading - (US$ Millions)
Total value of Fixed Income trading - (US$ Millions)
Market capitalization split by economic sector
Organization chart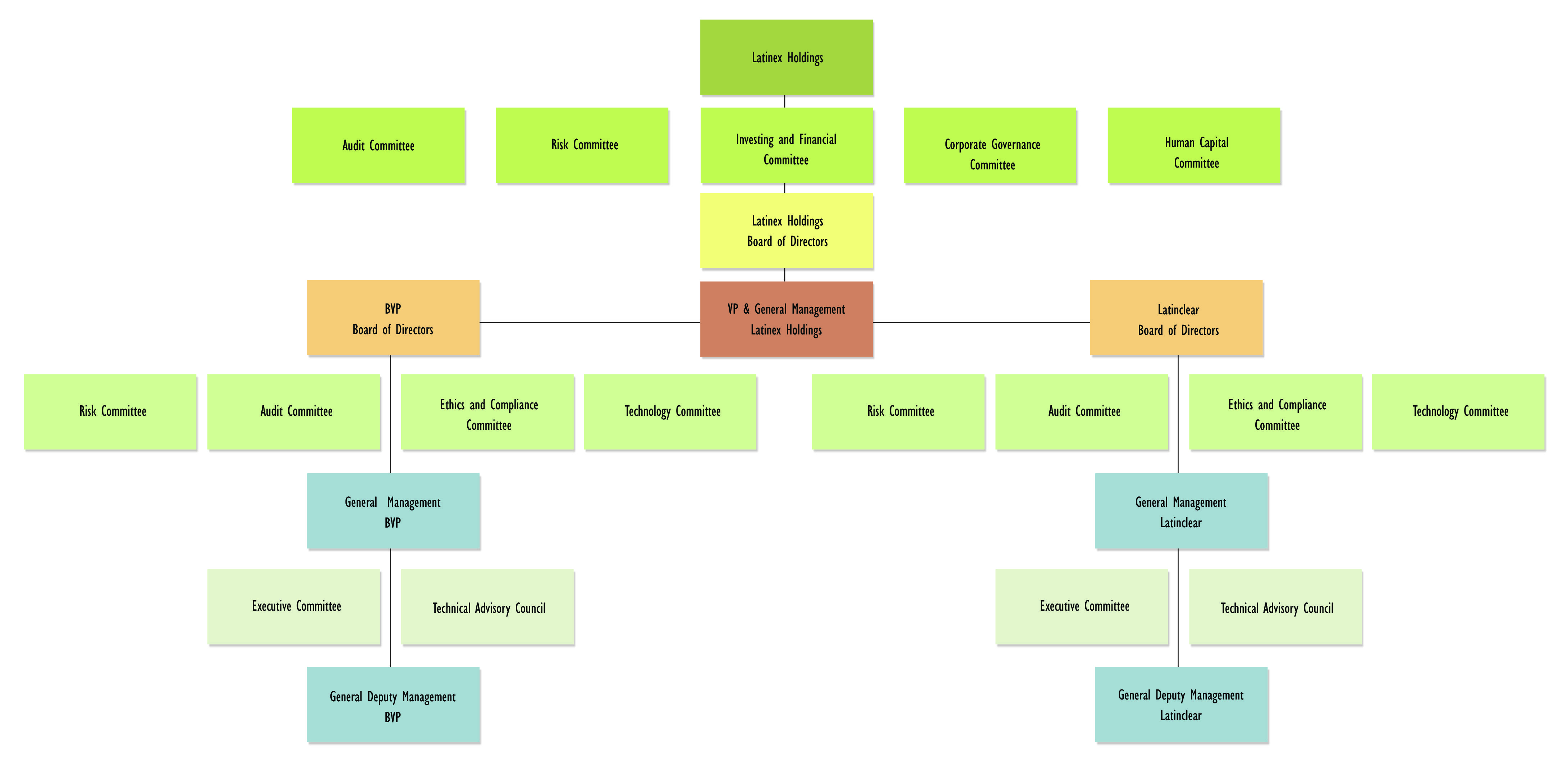 Financial indicators
Net Income (U$S thousands)
1,520.8
1,192.7
ROE (Net Income/shareholders' Equity)
189%
136%
ROA (Net Income/Assets)
44%
36%
EBT/Shareholders' equity
250%
180%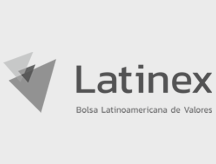 Clearing, settlement and depositary services
The liquidation model used by Latin Clear today complies with the main recommendations of the Bank for International Settlements (BIS) and others established by the International Securities Services Association (ISSA), among them, to safeguard participants from financial risks, eliminating Operational risk, reducing cost, unifying security standards and creating efficient links in the market. Latin clear uses BIS settlement model 2, of delivery against payment, which corresponds to cash netting and transaction per transaction in terms of values. The clearing and settlement period is made in T + 2. In T + 1 Latin Clear freeze titles and at the beginning of T + 2 the process is completed, through the Panama National Bank's Clearing House. Each participant has a settlement bank that authorizes Latin Clear, through a contract, to debit them daily through this chamber to carry out its operations. Every day the Panama Stock Exchange (BVP) sends the information of the transactions and update of prices to Latin Clear through an electronic batch. The confirmation of the transactions is given in T and the BVP is responsible for making the confirmations of the stock exchange operations. The confirmations of over-the-counter transactions are made by Latin Clear in T. Latin Clear is also responsible for the deposit of securities.
Central counterparty - CCP
A Central Counterparty mechanism is not available.
Member of the following organizations
Association of National Numbering Agencies   (ANNA) – 1995
Bolsas de Comercio de Centroamérica y el Caribe  (BOLCEN) – 1990
Federación Iberoamericana de Bolsas (FIAB) – 2005
World Federation of Exchanges (WFE) – 1997- (Correspondent Exchange)
America's Central Securities Depositories Association (ACSDA)
Climate Bonds Initiative (CBI)
Task Force on Climate-related Financial Disclosures (TCFD)
Sustainable Stock Exchanges (SSE)
Instituto de Gobierno Corporativo Panamá (IGCP)
Grupo de Trabajo de Finanzas Sostenibles (GTFS)
Agreements with other Exchanges
Bolsa de Guayaquil – 2011 – Mutual Cooperation Agreement.
Bolsa Nacional de Valores de Costa Rica y Bolsa de Valores de El Salvador – 2007 – Memorandum of Understanding.
Bolsa de Nicaragua – 2007 – Memorandum of Understanding.
Bolsas de Valores y Depositarias de El Salvador – Remote Trading agreement
Regional Depository Custody chains with countries as Costa Rica, Nicaragua, Guatemala and El Salvador