Bolsa de Valores de Guayaquil
Anonymous Society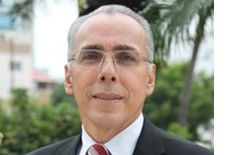 Ricardo Rivadeneira Dávalos - Chairman
Authorities
Chairman
Luis Ricardo Rivadeneira Dávalos
Vice-Chairman
Francisco Javier Ortega Gómez
Board of Directors

Regular Members Foreign Sector
Gustavo Adolfo Amador Delgado
Santiago Roca Arteta
Luis Alberto Salvador Albán
Juan Carlos Salame Illingworth
Alberto Enrique Rigail Cedeño
Martha González Triviño
Regular Director Domestic Sector
Luis Alberto Caballero Pineda
Alternate Directors Foreign Sector
Pablo Arturo Guevara Rodríguez
Galo Enrique García Furoiani
Héctor Hugo Plaza Saavedra
Fidel Márquez Sánchez
Mario Velázquez Saltos
José Antonio Hidalgo Molina
Luis Alberto Montoya Vega
Carolina Balmaseda Pupo
Alternate Directors Domestic Sector
Xavier Emilio Santos Layedra
María Alexandra Echeverría Vera
Germán Alberto Cobos Cajamarca
General Manager
Carlos César Ocampo Vascones
Pichincha 335 (e Illinworth)
Guayaquil, Ecuador
Phone: (5934) 380-3510
www.bolsadevaloresguayaquil.com
Main products and markets
Shares


Fixed income

Short-term debt

Securitizations

Special register of non-registered securities (Fixed Income securities)
Trading hours
Fixed income
09:30 to 15:30
Auctions
Auction Schedule
Bid & Offer Presentation
Repurchase Agreements
09:20 to 09:50
09:00 to 09:15
10:40 to 10:55
11:00 to 11:30
12:10 to 12:25
12:30 to 13:00
14:00 to 14:15
14:20 to 14:50
Serial Public Sector Offer Auction
10:20 to 10:50
10:00 to 10:15
11:30 to 11:45
11:50 to 12:20
13:00 to 13:15
13:20 to 13:50
15:00 to 15:15
15:20 to 15:50
Serial Public Sector Bid Auction
09:20 to 09:50
09:00 to 09:15
10:40 to 10:55
11:00 to 11:30
12:10 to 12:25
12:30 to 13:00
14:00 to 14:15
14:20 to 1450
Serial Private Sector Offer Auction
09:50 to 10:20
09:30 to 09:45
11:10 to 11:25
11:30 to 12:00
12:30 to 12:45
12:50 to 13:20
14:30 to 14:45
14:50 to 15:20
Non-Liquid Stock Auctions
11:20 to 11:50
11:00 to 11:15
13:00 to 13:15
13:20 to 13:50
REVNI Fixed Income/Equities
12:20 to 12:50
12:00 to 12:15
Market data
Total market capitalization (millions of US$)
8,280
5,296
3,162
747
Number of listed companies
56
40
32
30
BVG Index
202
129.78
103.29
39.98
IPECU BVG
284
215.94
149.76
31.72
Number of brokerage companies
29
19
19
25
Total value of share trading (Millions of US$)
46
57
59
1
Total value of bond trading (Millions of US$)
801
1,167
1,814
1,832
Market Capitalization - (US$ Millions)
Total value of Share trading - (US$ Millions)
Total value of Fixed Income trading - (US$ Millions)
Market capitalization split by economic sector
Banking, financial and insurance
31
27
Brief history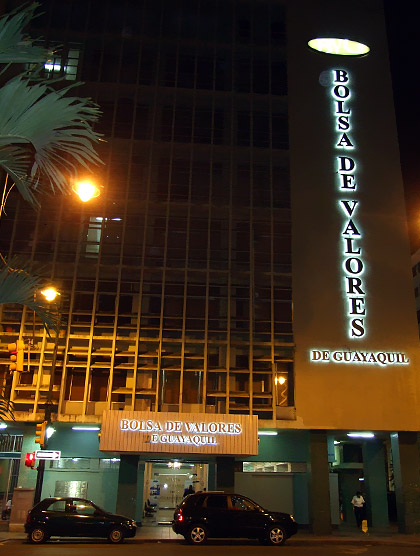 On May 30, 1969, under the Presidency of Dr. Velasco Ibarra, pursuant to an Executive Order, it was authorized that Bolsa de Valores de Guayaquil be created, upon the initiative of the Securities Commission-National Financial Corporation (CV-CFN). The first BVG trading session was carried out on August 31, 1970. All over its first year of operation, trading was distributed as follows: 96.7% fixed income and 3.5% equities.
In 1993 the first Securities Market Law was enacted, and published in the Official Gazette on May 28, the same year.  Under the new act, Stock Exchanges were granted self-regulatory powers. The government created Consejo Nacional de Valores, as securities market regulator, and Superintendencia de Compañías, as companies regulator and supervisor.  Afterwards, a new Securities Market Law was enacted in 1998.
1998 and 1999 were years of great hardship for the Ecuadorean economy, which was facing the challenge of El Niño climate events, as well as political and economic crises that created an atmosphere of instability and uncertainty. All this contributed to the failure of 75% of total banks and firms, and derived into more State intervention in the economy, with short-term government bonds (fixed income) prevailing over equities. In January 2000, the Government of Ecuador announced the adoption of a US dollar-based scheme, which removed foreign currency uncertainty.
Throughout its history, the Guayaquil Exchange conducted several activities to promote securities market development.  One should note the following:
Implementation of the first Electronic Market System in Ecuador, in July 1994;
Development of domestic and international BVG presence at international meetings and conferences;
Application of "Valuation Module" (Módulo Valorizador), a data base consisting of all fixed-income securities, with automated and interactive calculation of yield, IRR, and price, through a standard method and formulation;
Application of "Virtual World" (Mundo Virtual) website since1997, a platform acknowledged as a case study at Harvard Business School;
Securities Market Management Program, unique in Ecuador;
In conjunction with Bolsa de Quito, preparation of a mark-to market accounting method, which has been implemented since 2005;
Unregistered Securities Issuers Registry (REVNI);
Development and implementation of other trading mechanisms;
Use of SEB Electronic Market System nationally since 2012.
Organization chart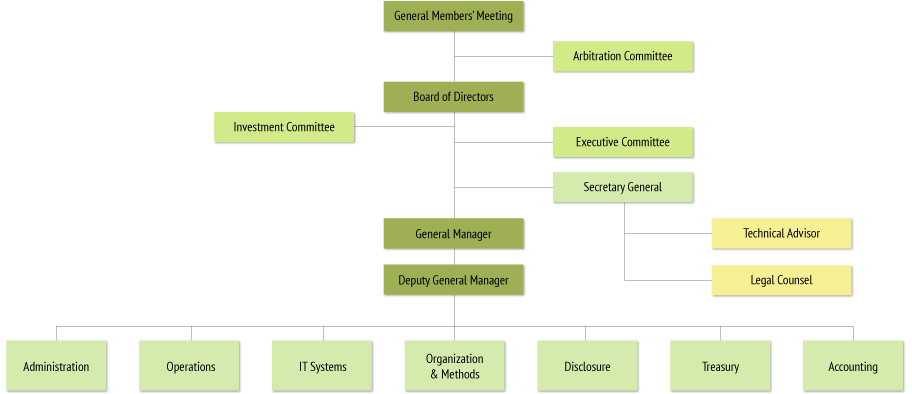 Financial indicators
Net Income (U$S thousands)
664.831
653.674
ROE (Net Income/Shareholders' Equity)
11,18%
11,18%
ROA (Net Income/Assets)
9,81%
9,81%
EBT/Shareholders' Equity
17,54%
17,53%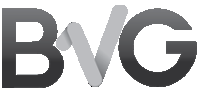 Clearing, settlement and depositary services
The securities clearing and settlement mechanism currently used is called Netting, whereby account balances are compared and netted to a single position; funds settlement being performed by way of transfers via Central Bank accounts held by Private Banks and Public Institutions, on behalf of Brokerage Houses and Public Institutions
This mechanism is based on prior calculation of net value, which takes into account the cash value of trades executed by Brokerage Houses and Public Institutions, as well as commissions, fees and any other payment deriving from such transactions.
The net value for each Brokerage House or Public Institution is calculated as the absolute difference between total value of purchases and total value of sales, which must be performed on a specific value date, including stock exchange commissions and fees, interest, ancillary rights, and other applicable items required by CSD Decevale, so that:
a. If the value of total sales (credit) is greater than total charges, the net balance shall be POSITIVE, that is to say, it should be transferred by Decevale in favor of the brokerage house or public institution.
b. If the value of total sales (credit) is smaller than total charges, the net balance shall be NEGATIVE, that is to say, the brokerage house or public institutions should make a payment into the Decevale account with the Central Bank.
Depository is performed by Decevale and DCV-BCE.
Central counterparty - CCP
A Central Counterparty mechanism is not available.
Member of the following organizations
Ibero-American Federation of Exchanges (FIAB) – 1980
Agreements with other Exchanges
Panama Stock Exchange – 12/14/11 – Information Sharing Agreement.